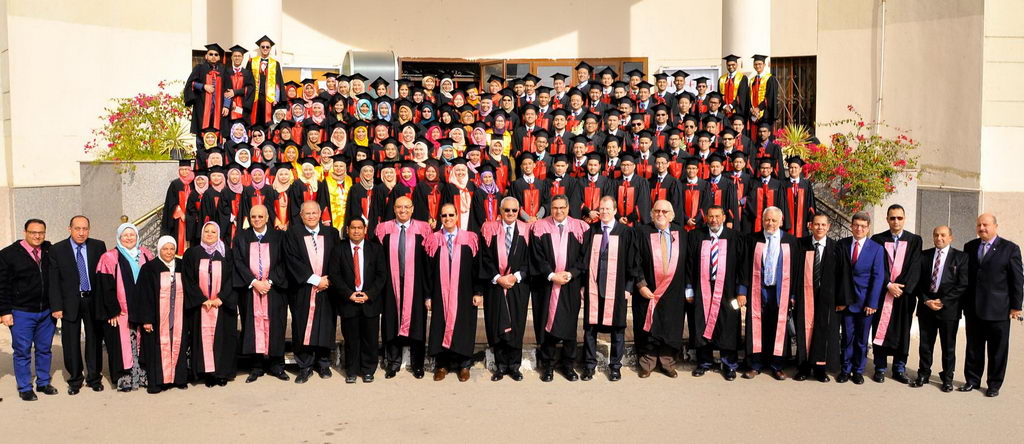 On Thursday 26th January 2017, the Faculty of Medicine Mansoura University, Celebrated the graduation of a new batch of the program of " Mansoura Manchester program for medical education by credit hours for- year 2016, totaling 132 doctors, of whom four Egyptian students and 9 Saudi students and 119 Malaysian students.
The ceremony was attended by prof/ Ashraf Abdel Basset - vice president for education and students' affairs, and prof/ Ashraf Sweilam - Vice President for Graduate Studies and Research affairs, and prof/ Saeed Abdel Hady - Dean of the Faculty of Medicine, and Professor Douglas Covelad - Dean of the Faculty of Medicine, University of Manchester- England, and a set of representatives and the graduates' parents.
Prof/ Nagy Abdel Hady – manger of the program, presents about the program which started ten years ago, and about the efforts of the faculty staff members through their work at the program.
Prof/ Saeed Abdel Hady, expressed his happiness to celebrate among his sons of the Manchester program graduates, confirming that the program has proven its successfulness, by qualifying doctors privileged internally and externally, and asked all graduates to complete their post graduate studies and doctoral studies, he also gave a creditable models of program graduates currently present in the European countries.
Prof/ Ashraf Abdel Basset, assured that the graduates will be ambassadors of the university in their country during the practice of the medical profession, and finally gave his thanks fore the parents who play a great role in supporting these graduates.