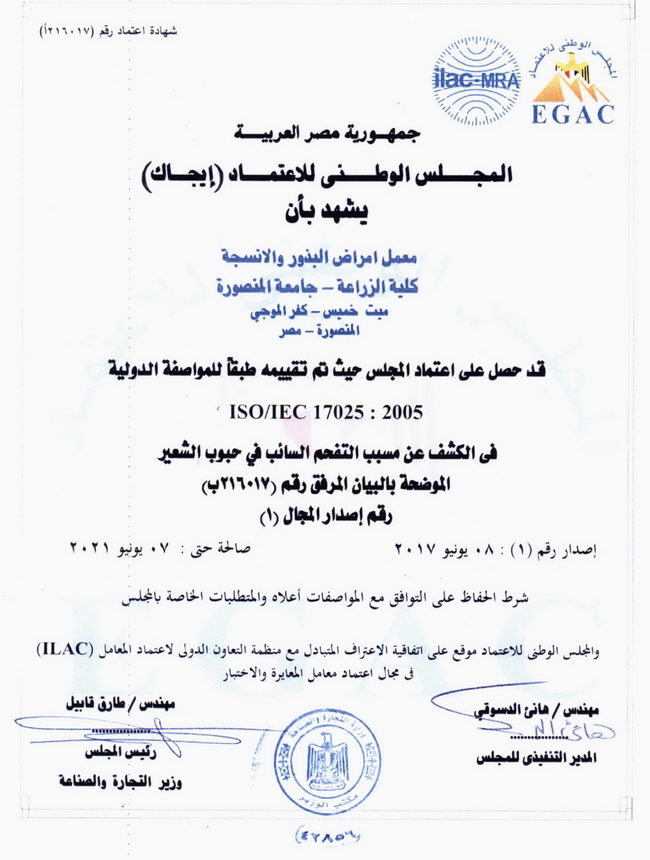 The Laboratory of Seed and Tissue pathology at the Faculty of Agriculture - Mansoura University has obtained the quality certificate from the National Accreditation Council (IACAC) in the detection of the bulk manure in barley grain.
The laboratory conducts seed, biotechnological and microbiological tests to serve the agricultural community.
The tests and measurements available in the laboratory include Seed health tests, (Fungal-bacterial-viral-enzymatic-physiological), as well as diagnosis of plant diseases, isolation of plant microorganisms, isolating and identification of plant microbes - imaging and study of the most important plant diseases as well as their pathogens - And the examination of slices of fungi and tissues of plants and animals with images taken using a microscope equipped with a digital imaging system, as well as examination of the outer surface of infected and healthy plant samples and fungal plantations with taking pictures of them.