Mansoura-IDF MENA Diabetic Foot Workshop
Post 05 March 2018
Hits:

227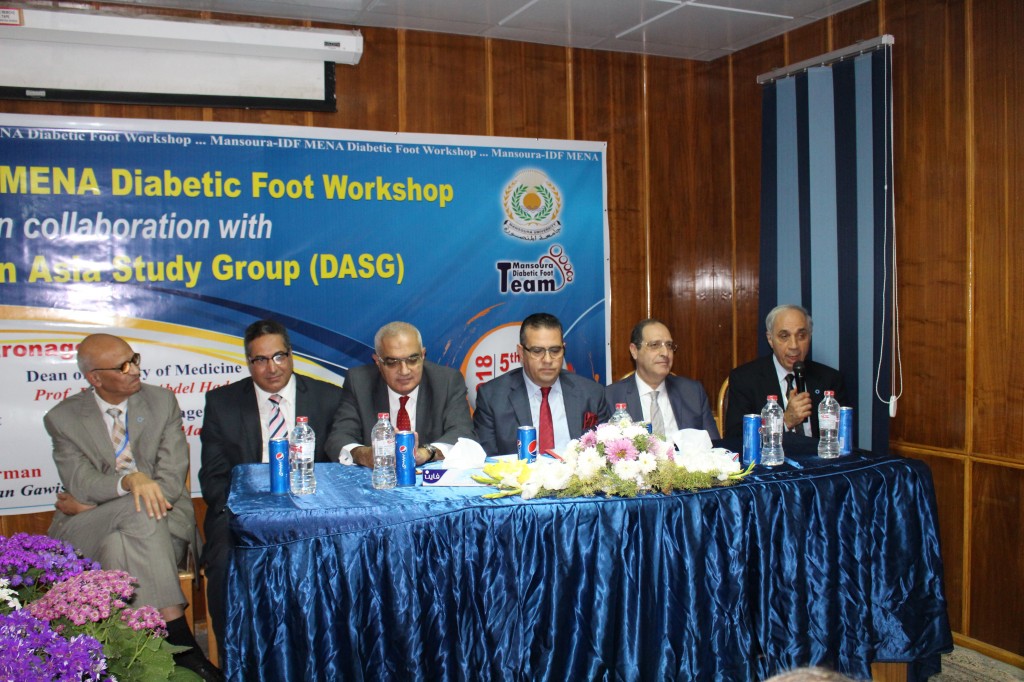 Mansoura-IDF MENA Diabetic Foot was launched on 5th March 2018.
The workshop was attended by Prof/ Mohamed Kenawy -President of Mansoura University, Prof/ Sharaf Abdel Basset - Vice-President of Mansoura University for Education and Students Affairs, Prof/ Ashraf Sweilem - Vice President for Postgraduate Studies and Research, Prof/ Said Abdel Hady - Dean of the faculty Medicine, Prof/ Hanan Sotohi - Head of the training course and Professor of Endocrinology, Diabetes and Metabolism, Dr/ Manal El-Tarashoubi, Dr/ Omnia State, Dr/ Fady Azmi, Dr/ Ahmed El Behairy- coordinator of the training course and distinguished trainees and guests from different Egyptian universities.
300 doctors will be trained trough the workshop from Afghanistan, Pakistan, Lebanon, Sudan and Jordan, as well as Egyptian doctors from the universities of Cairo, Alexandria, Ain Shams, Elmania, Assiut, Fayoum, Sohag and Beni Suef by the professors of Endocrinology, Diabetes and Metabolism from the universities South Valley, Port Said, Assiut and Mansoura.

The workshop hosted Prof/ Nizar Al-Basha -President of the Middle East Region of Diabetic Foot, Prof/ Silvin Klafil - Consultant of Diabetic Foot from France, Dr/ Aoun Ben-Zafer - Head of the Asian Diabetic Foot Research Organization and Dr/ Adel Abdel-Aziz - Representative of the Mediterranean Region at International Federation of Diabetes and Professor at Assiut University.