Mansoura University President receives MIT American Institute for cooperation.
Hits: 1666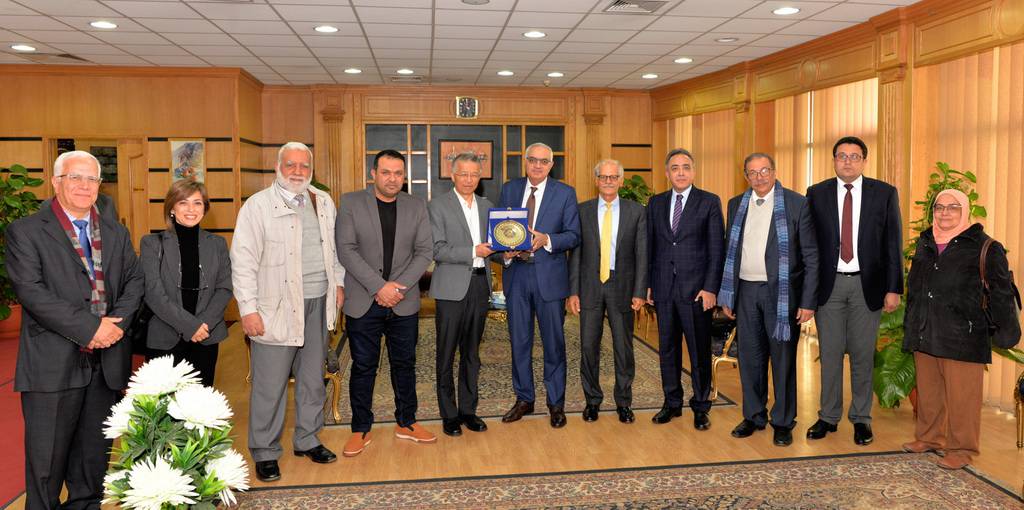 Prof. Ashraf Abdel Baset, President of Mansoura University, received a delegation of the MIT Institute to discuss cooperation within the USAID grant in partnership with MIT University in the United States of America with the participation of three Egyptian universities (Ain Shams - Mansoura - Aswan) for a period of five years
The delegation included: Professor Gang Chin, Professor of Nanotechnology at the MIT Institute, Professor Ahmed Ghonaim, Professor at the MIT Institute, Prof. Dr. Mohi Mansour, Professor at the American University in Cairo, Dina Kafafi, Director of MIT Projects with the USAID organization.

The meeting was attended by Prof. Dr. Ashraf Hafez, Vice-President of the University for Post graduate Studies and Research, Prof. Dr. Mohamed Abdel-Azim, Dean of the Faculty of Engineering, Prof. Dr. Mohamed Nabil Sabry, Director of the Nanotechnology Center, Prof. Dr. Azza Ismail, Mansoura University Consultant for International Relations, Dr. Mohamed El-Sergany Director International Relations Office.
The meeting discussed cooperation in the three areas of the grant (research projects, educational field, community service and environmental development) which will last for a period of five years.
The meeting also included an explanation of the possibilities allocated to the new and renewable energy center at the university branch in Gamasa city and the merging of grant outputs with the goals of the center.

Prof. Ashraf Abdel Baset said that the university's desire to benefit from the international services of MIT University in adopting modern educational methods that are project-based and making excellent study programs in the undergraduate and graduate levels and preparing the basis to be compatible with modern educational methods
---