A 43 Million-Year-Old Fossil of Amphibious Whale was discovered, in Cooperation between the Ministry of Higher Education and the Ministry of Environment
Hits: 101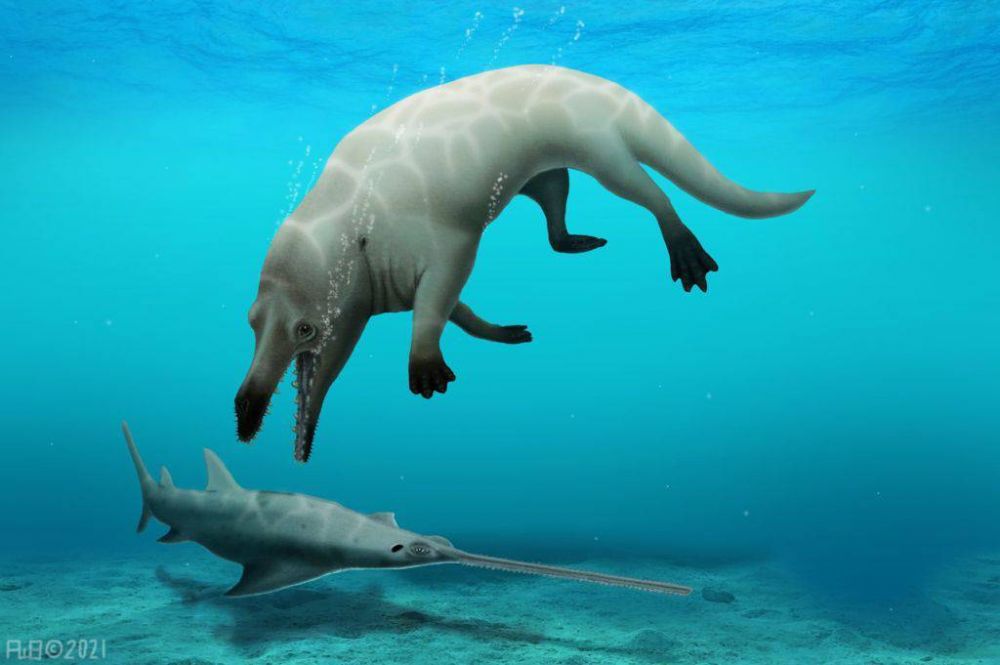 Mansoura University announced for an Egyptian research team, with the participation of Prof. Hesham Sallam, Professor of Vertebrate Paleontology at Mansoura University and Founder of Mansoura University Vertebrate Paleontology Center (MUVP), and the researcher/ Abdullah Gohar, postgraduate researcher at Mansoura University, in cooperation with the Ministry of Environment under the supervision of Dr. Yasmin Foad, Minister of Environment and the participation of Dr. Mohamed Sameh, General Manager of Reserves of the Central Area at Environmental Affairs Service and the Coordinator of the Cooperation between Mansoura University and the Ministry of Environment. The Egyptian Research Team succeeded in recording a new discovery of 43 Million-Year-Old Fossil of amphibious whale in Egyptian water.
This discovery is considered a leap for the Arab Paleontologists, as it is the first time in the history for an Egyptian Arabic team to lead the documentation of new genders and species of whales.
The fossils of the Whale were extracted in 2008 by a research team from the Ministry of Environment's experts with the leadership of Dr. Mohamed Sameh. Further, the new whale was studied and documented under the supervision and following up by Dr. Yasmin Foad, The Minister of Environment, and Mansoura University Vertebrate Paleontology Center (MUVP) headed by Dr. Hesham Sallam.
The new whale, named Phiomicetus Anubis, had an estimated body length of about 3 meters and a body mass of about 600kg, and was likely a top predator, the researchers said.
Dr. Mohamed Sameh, one of the main authors of the study noted that the fossil was unearthed from middle Eocene rocks in the Fayoum Oasis in Egypt's Western Desert — an area once covered by sea that has provided a rich seam of discoveries showing the evolution of whales.
Dr.Hesham Sallam pointed out that this discovery increased the knowledge of the research team about the origin of the old whales and their environment in which they live in. Besides, this discovery helped the vision of the research team.
Mr. Abdullah Gohar confirmed that this important discovery is considered an adding point to Egyptian and African Heritage of fossils, especially, the fossils of old animals which helps day after day in uncovering important scientific mysteries. Besides, he pointed out that documenting new species of Amphibious Whale is considered a turning point in understanding the development of whales.
This discovery is about to be published today on Wednesday in one of the prestigious International magazines in Biology.
---