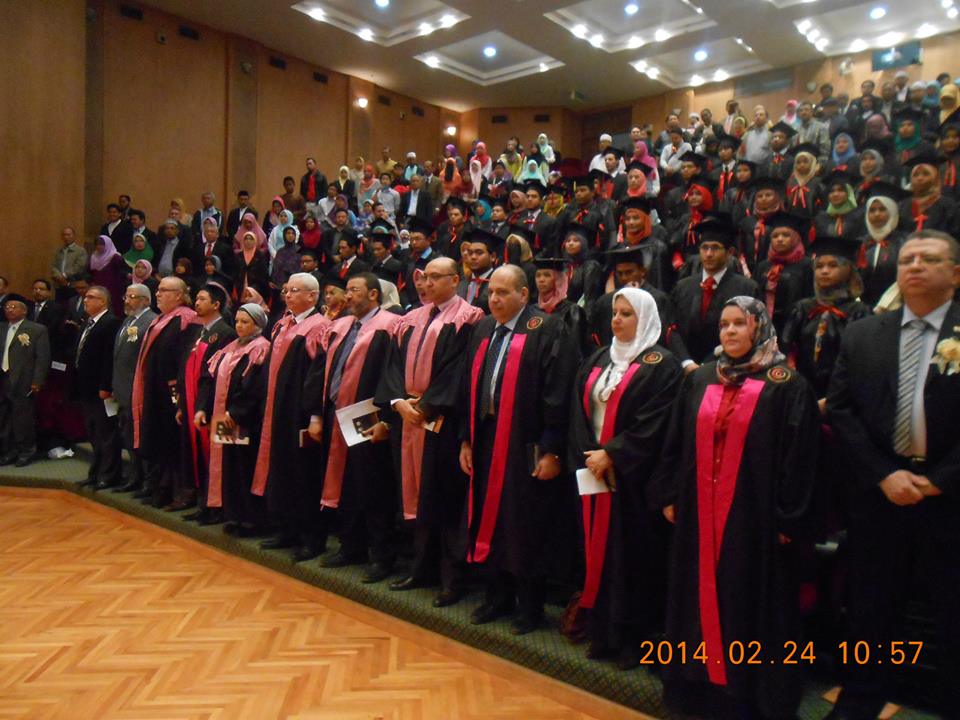 On Monday 24th of February 2014, Prof. Sayed Ahmed Abdel Khalek; president of Mansoura University and Dr. Mohamed Ibrahim Rady; the Cultural adviser at the Embassy of Malaysia in Cairo attended the third class of the Foreign students at Faculty of Medicine graduation ceremony which included 77 newcomer doctors; 6 of them from Palestine, 2 from the Kingdom of Saudi Arabia and 69 from Malaysia. The attendees included Prof. Magda Nasr, Vice president of Mansoura university for graduate studies and research, Prof. Ihab Saad; Dean of Faculty of Medicine, Prof. Nasreen Salah Omar; general supervisor of Foreign Students office, Dr. Mujahed Abu Majd Doctors representative in Dakahlia, Dr. Magdy Hijazi, Under-Secretary of the Ministry of Health in Dakahlia, and dean deputies and students coordinators of the Faculty of Medicine.
Dr. Mohammad Ashraf Shihab al-Din, speaking on behalf of the graduating doctors, thanked the staff members, the Faculty of Medicine, and Mansoura University, for everything they provided over six years of hardworking that is graced by graduation.
Dr. Nasreen Salah said that Faculty of Medicine and the University witness the graduation of the third class of foreign students which they have been working on building of their personalities and inward on the composition of the student's personality scientifically and culturally a sportsman all graduates will be aware of the personality after their return to their country.
Dr. Ihab Saad; Dean of Faculty of Medicine congratulated all graduates and thanked the members of the teaching staff and all those who have contributed to and worked hard to serve foreign students and student graduates to upholding the values and ethics to practice medical profession and to remain committed to the honor of the profession and treatment of patients.
For his part, Prof. Sayed Ahmed Abdel Khalek said that it is a great event to celebrate the graduation day of foreign students coming from Palestine, Saudi Arabia, Malaysia, who proved their commitment to educational attainment during the years of study in Mansoura University. He also thanked the members of the teaching staff of the Faculty of Medicine and all their efforts for the success of these doctors who are considered to be ambassadors of their country and will transfer science and experience to their country.