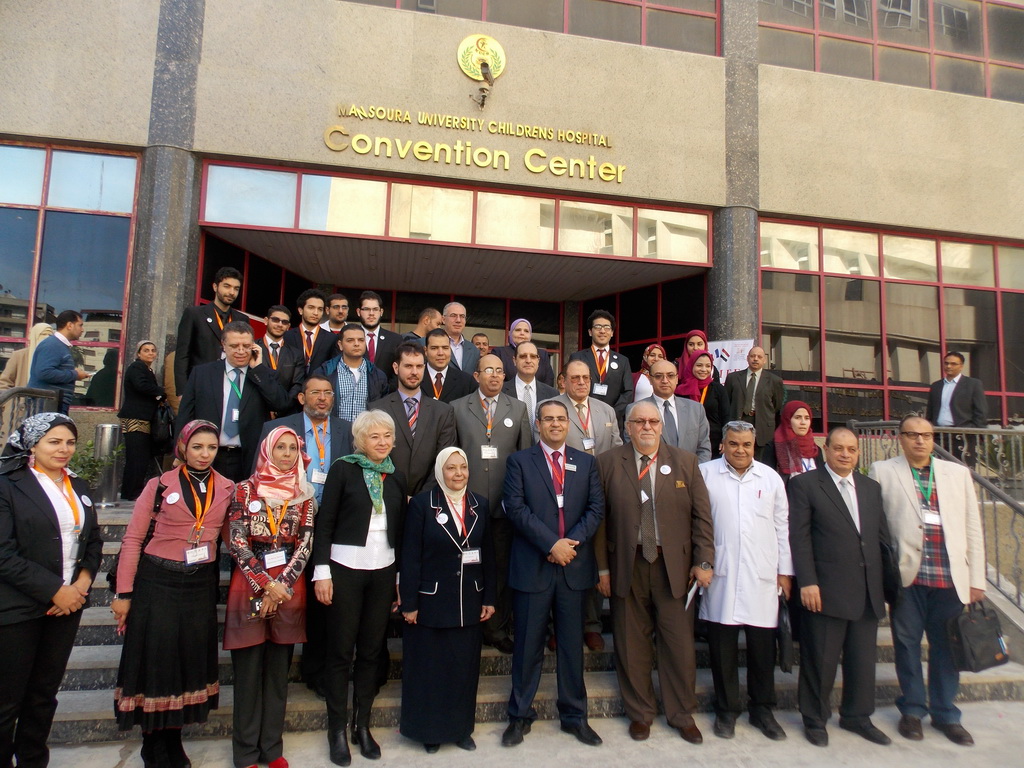 Under the auspices of Prof. Mohammed Kenawy; prisedent of Mansoura University, the First Annual Conference for establishing the Mansoura University center for stem cell of umbilical cord research was held in the period from December 17th to 18th in Dr. Mahdi Alpsossa Hall in Children's Hospital. The leadership of the conference was by Dr. Mohammed Hadidi; acting dean of Faculty of Medicine, and Dr. Salah al-Agha, head of Clinical Pathology Department. The conference was held under the chairmanship of Farha Shenawy and Prof. Dominique Sharon; Honorary President of the conference.
The conference was held in the framework of cooperation among the French Cultural Center, the Egyptian French Medical Association, the Science and Technology development fund (STDF), and the scientific association for Mansoura medical students.
The attendances included representatives of the French Embassy, French Cultural Center, and a large number of managers of medical centers, hospitals, and heads of medical departments and faculty members. Many Egyptian universities participated in the conference including: Universities of Alexandria - Zagazig -Menoufia – Tanta, also some European universities participated, including: University of Paris 7 - University of Athens, Greece.
A group of elite scientists in the field of stem cells lectures in the conference, most notably Dr. Virginia Ubarj; immunity professor at the University of Paris 7 and Saint Louis Hospital and Dr. Astadts Mikhalewylls; professor at the University of Athens and Hlaink center for stem cell research.
Dr. Farha Shenawy indicated that the conference is the first scientific contribution of Mansoura University Center for stem cell of umbilical cord research. The center currently is about to be finished, and includes a blood bank for stem cells as well as stem cell of the umbilical cord research center. This conference is the fifth Egyptian French meeting.
Dr. Fred Elias; the Egyptian-French relations coordinator gave a speech on behalf of Scientific Cooperation Attaché of the Embassy of France, as he expressed his appreciation of the fruitful cooperation with Mansoura university and the establishing of stem cells of umbilical cord bank . He also thanked the team of stem cell research bank who are doing a medical privileged through the applications that should be the treatment of lots of patients suffering from many diseases. The Embassy of France has been keen on providing grants for training researchers in the Masters and PhDs through 8 grants in 20 months in France.
Dr. Mohammed Knawy honored Dr. Dominique Sharon; Head of Clinical Immunology Department of St. Louis Hospital, Paris University to mark the passage of 20 years of scientific and cultural cooperation between Paris University and Mansoura University.