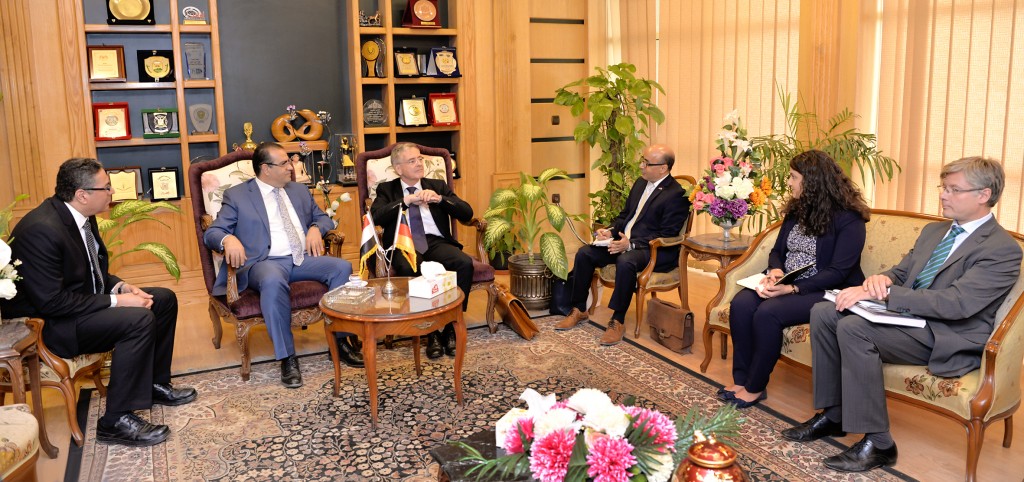 On October 28, and on the side line of the activities of German Festival "Germany at Delta", coordinated by the German Embassy – Cairo.
Prof/ Mohamed Kenawy – president of Mansoura University welcomed the German Ambassador/ Julius Georg, Mrs. Rawia Teama – the scientific consultant, and prof/ Roman Locchter - Director of the German DAAD.
During the meeting prof/ kenawy, stressed that the festival considers an important event to open up new horizons for fruitful cooperation with German research institutions and universities.
He mentioned that Mansoura University is seeking the twinning with some German research centers to take advantage of the German expertise in establishing the Medical Science Research Center in Jamsa.
On his side, the German ambassador expressed his happiness for being at Mansoura University which is a great monument of science in Egypt and Arab world, pointed out that there is a cultural participation and a set of research projects with Mansoura University.
Prof/ Locchter, mentioned that Mansoura University is one of the largest and most active Egyptian universities ever, and pointed out that there are many scholarships to be exchanged between the two parties.