A seminar on justice and the problems of achieving it at the faculty of law – Mansoura University
Post 04 April 2018
Hits:

1482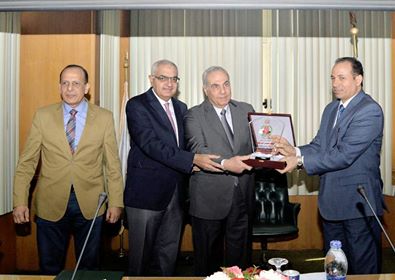 The Faculty of Law at Mansoura University hosted a seminar on justice and the problems of achieving it on 4th April 2018.
Under the patronage of Prof/ Mohamed Kenawy - President of Mansoura University.
The seminar was attended by Prof/ Ashraf Abdel Basset - Vice President for Education and Students Affairs, Prof/ Zaki Zidan -Vice President for Community Service and Environmental Development, Prof/ Sherif Yousef Khater- Dean of the faculty of law, Prof/ Saed Abdel-Khaliq- former President of Mansoura University and former Minister of Higher Education, Prof/ Reda Abdel Salam - Vice Dean for Education and Students Affairs, prof/ Tamer Saleh - Vice Dean for Graduate Studies and Research, Mr./ Nabeel El Gamal- Member of the Egyptian Parliament, and a set of law men, administrative judiciary, State Litigation Authority Administrative Prosecution and number of faculty staff members and students.
The seminar aims at identifying the obstacles to achieving accelerated justice and to develop proposed solutions to overcome these obstacles.
The seminar included a set of thems, role of the law in ensuring the implementation of the judgments of the judiciary, the importance of disseminating the culture, the role of the judiciary in the enforcement of judicial rulings, the role of the number of judges before the courts in the slow pace of litigation and reconciliation between adversaries as an alternative to resorting to justice.