Mansoura University celebrates the graduation of 80 Nigerian students at the faculty of Nursing
Post 14 May 2018
Hits:

5697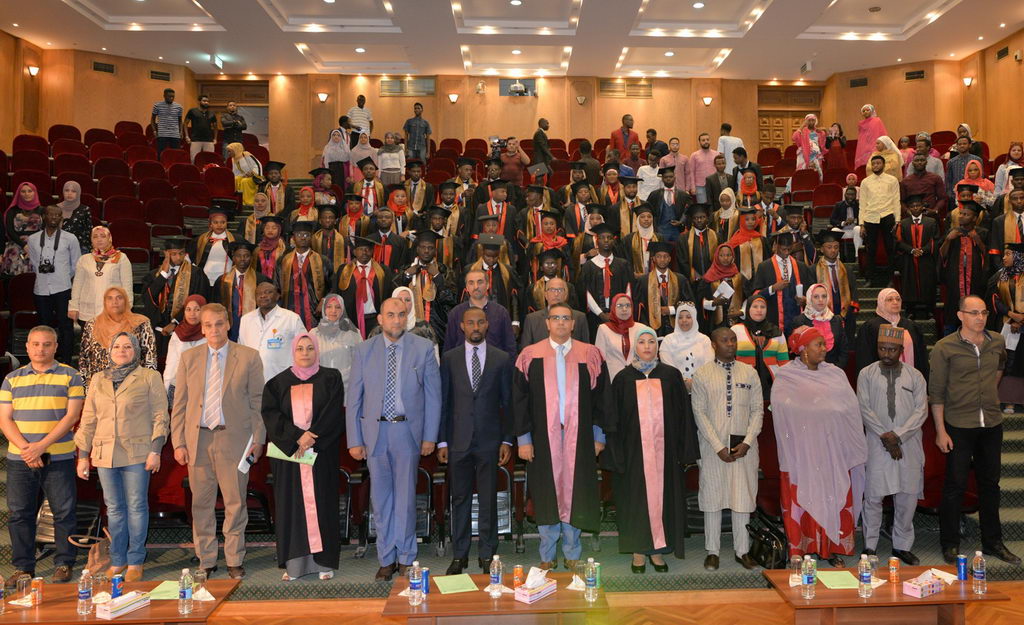 On Monday 14th May 2018, Faculty of Nursing at Mansoura University celebrated the graduation of 80 Nigerian students from the first batch of Nigerian foreign students.
The ceremony was attended by Prof/ Mohamed Kenawy - President of Mansoura University, Mr. / Mcway Samuel Victor –Acting the Nigerian Consul in Egypt and his accompanying delegation, Prof/ Amina Al Nemer - Dean of the faculty of Nursing, prof/ Wafaa Jameel - Vice Dean for Education and Students Affairs, Prof/ Nahed Kandil - Professor at the Faculty of Nursing, Prof/ Hossam El-Din Mostafa - General Supervisor of international affairs, in addition to a number of faculty staff members.

Prof/ Wafaa Jameel expressed her happiness in congratulating the graduate students.
Prof/ Amina Al-Nimer pointed out that graduates are eligible for success because they have adapted to the faculty's programs, stressed that graduation is the beginning of their careers.
Mr. / Mcway Victor expressed his pride in the Nigerian students who graduated from Mansoura University – faculty of Nursing and named their country Nigeria highly and asked them for more efforts.
Victor also praised the great efforts and care of Mansoura University, represented by the Faculty of Nursing.
Prof/ Kenawy, pointed out that the graduation of this batch is a result of the care and attention they received in Egypt in recent years, and asked them to devote their time and effort to serve the community during their working life and to keep in contact with Mansoura University.