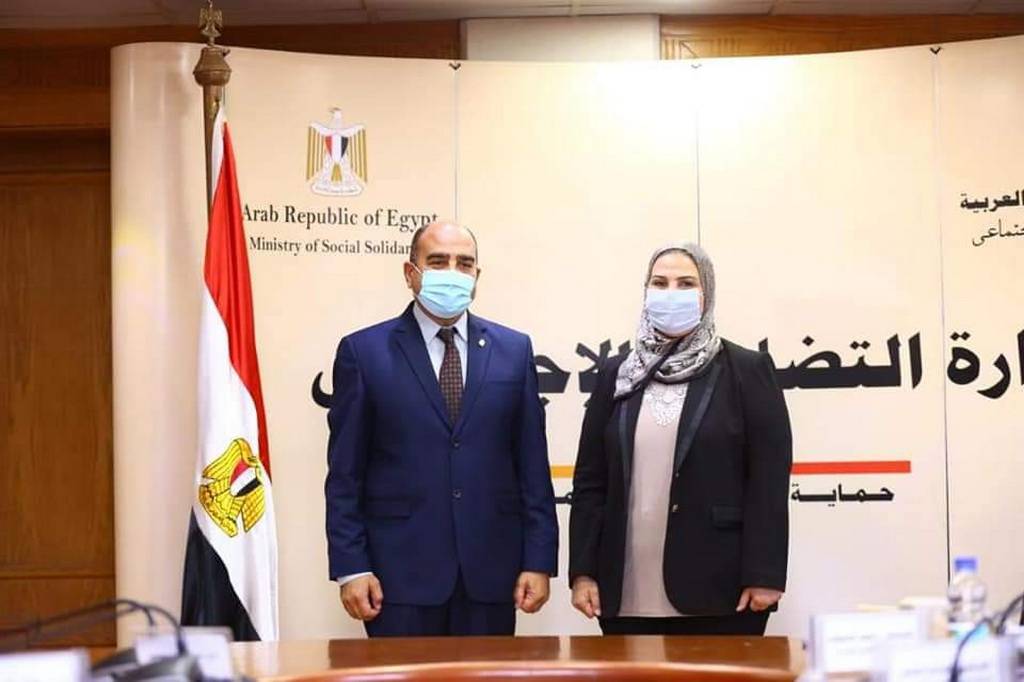 The social solidarity minister, Niveen Al-Qabbaj signed a cooperation protocol between the ministry and the presidents of 24 Egyptian universities which are (Mansoura- Ain Shams – Helwan- Fayoum- Bani Suef- Aswan- Luxor- South Valley- Sohag- Asyut- New Valley- Sadat- Monofia- Damanhour- Zagazig- Kafr ElShiekh- Matrouh- Alexandria- Port said- Suez Canal –Tanta- Banha- Suez). This cooperation aims at establishing a unit for social solidarity inside each university which contributes in achieving Egypt's vision of the sustainable development 2030, particularly the goal to achieve social justice, human building and economic empowerment.
The attendees were: Dr. Salah Hashem, the counselor of the social solidarity for social politics and the law counselor of the social solidarity, Ahmed ElShahat.
The Social Solidarity Minister, Niveen Al-Qabbaj said that there was a fruitful cooperation between the ministry and the Egyptian universities during Covid 19 crisis as the ministry offered a great support in equipping the university's hostels and providing it with furniture as well as offering water, meals and personal cleanliness tools, in coordination with prof. Khaled Abdel-Ghafaar, the minister of higher education and research.
The solidarity minister noted that these units aim at supporting unable students as well as students with special needs though providing cash and in-kind support services, and necessary compensatory devices. Besides, the units target offering soft loans according to the procedures of Nasser Social Bank as well as establishing investment or productive or services projects with small benefit. In addition to offering the required facilities for the benefit of university's students such as, the research activities which are carried out by the National Center of Social and Criminal Research and its publications.
The solidarity minister said that the ministry welcomes the idea of establishing communication channels with Egyptian Universities for the sake of achieving the completeness between each university in offering a number of completed social and economic services that the university students need. She confirmed that the unit aims at promoting the spirit of belonging, citizenship, volunteering, and participating in the public work in general and in development ones. Thus, it leads to increasing in human investment. The opportunities of the participation of Nasser Social Bank in financial inclusion, stimulating economic spirit and economic empowerment of students were mentioned.
The minister confirmed that the university plays a major role in social change and human development processes as well as in areas of economic empowerment and raising public awareness among university students. This role reinforces the social justice rules that the political leaders put on the list of their priorities.