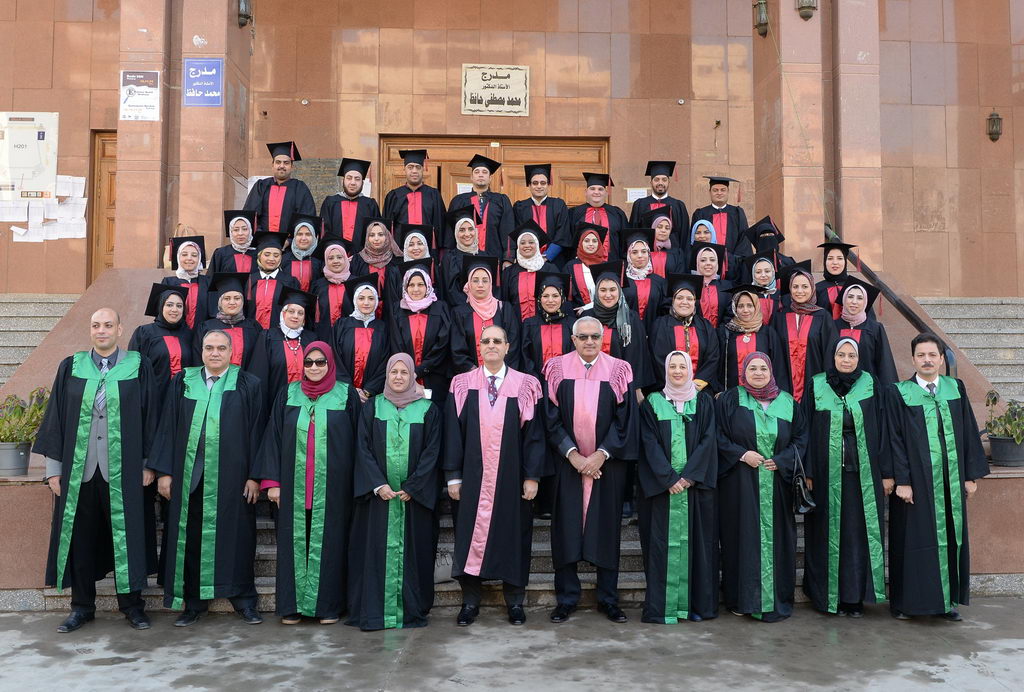 Mansoura University celebrates the graduation of the second batch of Pharma D program at the Faculty of Pharmacy
Hits: 2561
The Faculty of Pharmacy, Mansoura University, celebrated the graduation of the second batch of the professional master's program "Pharma D" in the Faculty of Medicine on Tuesday, 25 December.
The celebration was attended by Dr. Ashraf Abdel Baset, President of Mansoura University, Prof. Dr. Ashraf Suwaileml, Vice President for Graduate Studies and Research, Prof. Dr. Saied Abdel Hady, Dean of Faculty of Medicine, Dr. Nahed El Anany, Dean of the Faculty of Pharmacy, Prof. Dr. Manal Eid, Vice Dean for Graduate Studies and Research, Prof. Rasha Barwa, Vice Dean for Education and Students affairs, Dr. Khaled Bashir, Director of Pharma d Program, Dr. Magdy Thabet, Captain of Pharmacists - Mona Rashed - Representative of Pharmacists organization , In addition to a number of former deans of the Faculty of Pharmacy Mansoura University and a number of faculty members of the Pharma D program.
Dr. Ashraf Abdul Basset stressed that the qualified classification of the College of Pharmacy in the University was made according to the classification of Shanghai as a result of the effort exerted by the faculty members, and noted the application of the University's hospitals to clinical pharmacy recently to varying degrees and required from the graduates of the program to communicate continuously with the University.
Prof. Ashraf Suwailem praised the entry of the University's College of Pharmacy into the top 300 colleges in the world according to the Shanghai classification. He praised the cooperation between the university's medical and pharmacy professors in teaching within this program.
Dr. Nahid Al-Anani praised the excellence of the study and the regularity of the program, which contributes to the high level of the Faculty which includes a large number of faculty members who have patents. She added that these programs are keeping up with the requirements of the labor market, which has become necessary to maximize the role of clinical pharmacy.
Dr. Manal Eid assured that the graduate of this program is distinguished in the field of control of medicines and the ability to provide appropriate treatment for patients.
Professor Khalid Bashir said that the program includes two academic years, the first is to study a number of clinical pharmacy and pharmacological education materials in cooperation with medical professors. The second is practical training in the university hospitals in all specialties. He added that the graduate of this program is specialized In the fields of pharmacology and patient care, and can work in drug information centers and infection control teams.
.
---