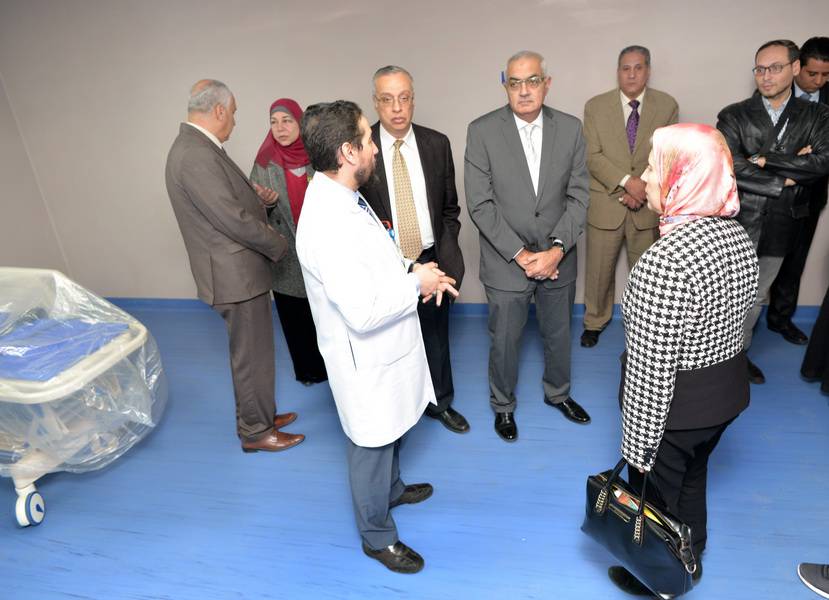 The President of Mansoura University is inspecting the facilities of cardiac units, bone marrow transplant and umbilical cord bank at the Children's Hospital
During his visit to the University Children's Hospital, Dr. Ashraf Abdel Basset, President of Mansoura University, inspected the latest equipment of the heart unit, the new bone marrow transplantation unit and the new umbilical cord bank project, which will be a great addition to treat blood diseases for children.
He stressed that the university is interested in developing medical services for patients and developing specialized medical units to treat sick children from Dakahlia and Delta governorates.
Accompanied by Dr. Farha Al-Shennawi, supervisor of the umbilical cord bank project, Dr. Ahmed Al-Rifa'i, Director of Children's Hospital, Prof. Dr. Magdy Abou El-Khair, Head of Children's Department, Prof. Dr. Ahmed Mansour, Head of Pediatric Hematology and Oncology Unit, Dr. Hala El-Marsafawy, Head of Cardiology Unit, Prof. Dr. Mahmoud El-Gamal, Engineering Consultant for Hospitals, Mr. Osama Mousa, General Secretary of the University.
---