The Twenty-Ninth Conference of Integrative Pediatrics at Mansoura University
Hits: 4602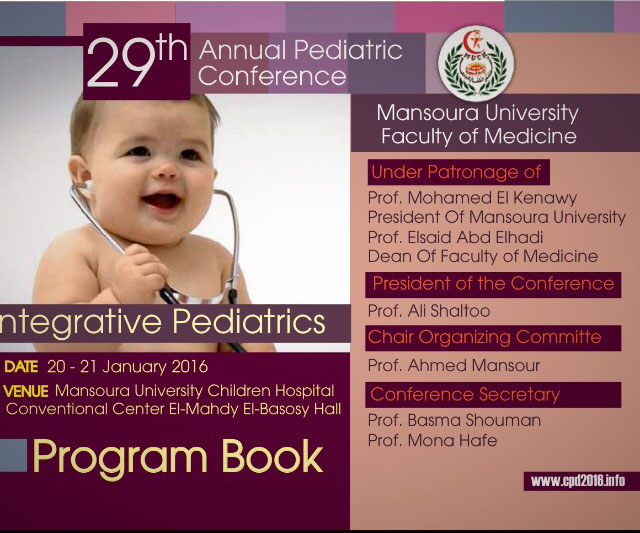 Mansoura University held the Twenty-Ninth Conference of Pediatrics entitled "Integrative Pediatrics" at the University Children's Hospital.
The conference aims at studying the latest in the modern scientific techniques that serve the diagnosis, treatment and following-up incurable diseases in children to get the service up to the best international standards.
Three workshops were held before the conference in the fields of the digestive system, endoscopes, cardiology, cardiac catheterization and genetic diseases. The conference included six scientific sessions over two days with over 30 speakers of pediatrics professors. The conference hosted the Egyptian Canadian prof. Mohamed Tagen who gave a lecture about the new methods in medical statistics and their role in scientific research.
The conference offered training and education for doctors at the Ministry of Health and taking into consideration the integration between specialties in diagnostics. During the conference, all the modern techniques in diagnosis and treatment and modern means in child nutrition were presented. In addition, the rare cases that were treated in the children's hospital over the past year were presented on the sidelines of the conference.
A large group of professors, medical centers managers, the dean of faculty of medicine, his deputies, and past deans attended the conference. They all asserted that the medical community needs working seriously hard, participation and integration to work on developing the medical system to treat the largest possible number of sick children and to exchange experiences.

---