Mansoura University honors its athletic students who excelled internationally
Hits: 255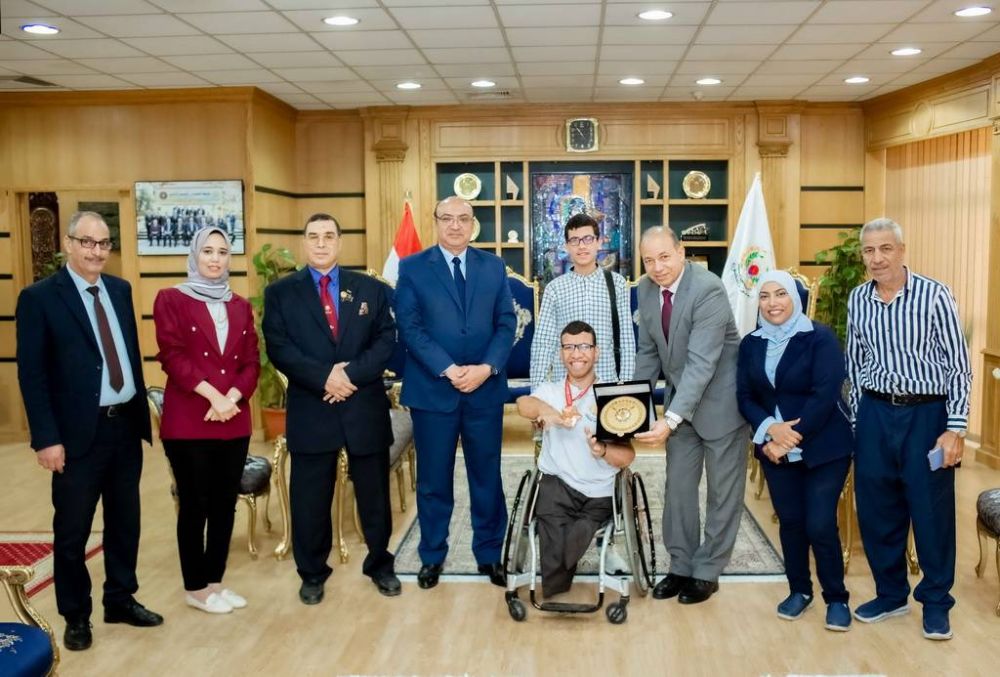 Prof. Cherif Youssef Khater, President of Mansoura University, and Prof. Mohamed Attia Al-Bayoumi, Vice President for Education and Students, honored two athletic students from the university who excelled internationally, in the presence of Prof. Nevin Kamel, Director of the Center for Persons with Disabilities, Dr. Sarah Zidan, Deputy Director of the Center, Captain Mohamed Taha Al-Sayed, karate coach.
Adel Shaban Awad, a student at the Faculty of Commerce, a player in the Egyptian karate team for people with special needs, was honored for winning 3rd place and a bronze medal in the 2023 World Karate Championship held in Hungary.
Raghad Mustafa Hosni Ibrahim, a student at the Faculty of Agriculture, Mansoura University and the Egyptian national team player in judo, was also honored and won 1st place in Africa, in the Professional Jiu-Jitsu Championship (Women).
Prof. Cherif Youssef Khater congratulated the two students on their outstanding sporting achievement and being crowned third place globally and first place in Africa. He said that His Excellency President Abdel Fattah El-Sisi, President of the Republic, paid great attention to supporting our students who excelled athletically, as well as supporting our students with disabilities, and the university is working to achieve the vision of the Egyptian state, and provides all means of support, he added that the student, Adel, has proven young people who raised the name of Egypt and the university high in international forums and that people with disabilities are "Differently -abled."
Student Raghad Mustafa also proved the ability of the Egyptian girls with honorable participation and outstanding performance to achieve sporting excellence and win first place in Africa.
He praised the efficiency and excellence of the university students and their ability to participate effectively and honorably in local and international competitions in various fields and to win advanced positions.
Prof. Muhammad Attia Al-Bayoumi said that students' participation in various competitions plays an effective role in building their personalities, helps them achieve academic excellence and creativity which contributes to the preparation of talented and innovative graduates. He offered his full support and encouragement for students to participate in various competitions after an integrated preparation.
Adel Shaban said that this honor is one of the greatest honors and closest to his heart because it is from Mansoura University, which provided him with a conducive environment that enabled him to participate effectively and increase his contributions, to benefit from his capabilities
and to overcame all obstacles to reach this great victory.
Raghad Mustafa expressed her pleasure at being honored by Mansoura University, she added that the university played the role of the greatest supporter to its students, and this honor is a great compensation for her efforts during the past years.
---